Trodat Printy 4727 Custom Date Stamp
Self Inking Custom Date Stamp
The Trodat 4927 is a large format date stamp. With up to 6 lines of text make this stamp very versitile and like all Trodat products it will last for thousands of impressions.
Payment Received Stamp, Invoiced Stamp, Shipped Stamp, any of the previous personalized with name or department.
| Replacement Text Plate for Trodat Printy 4727 | |
| --- | --- |

Moved, married? Need to update your stamp, just change the textplate on your stamp. Re-use your existing stamp and make it just like new by ordering a replacement text plate. If you have an old stamp that has had the old plate image seated on the ink-pad for longer than a few days, YOU WILL NEED A NEW INK PAD. The image of the plate gets embossed in the ink-pad and makes the new one impossible to use with the old pad. Order a replacement Custom plate + Ink-pad.
| Replacement Ink Cartridge for Trodat 4727 (6/4927) | |
| --- | --- |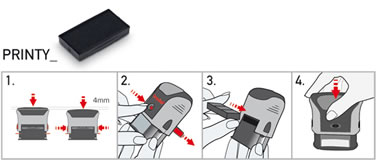 Is your stamp not printing correctly, simply adjust the date height...