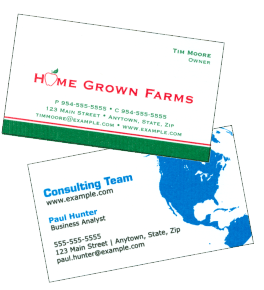 Raised or Flat printed business cards are a critical networking tool for any professional. We offer the most professional spot color business cards at a competitive price with turn around time second to none.
We have over 50 different stocks to choose from. Our goal is to provide high quality business cards that will create the professional look that your business is looking for.
Choose raised printing for your business cards at no extra charge. Raised printing (thermography) is achieved by the combination of ink, resin, and heat, which results in a noticeably "raised" effect.

Feel the quality of raised print (thermography) business cards. Raised print business cards present a professional image suitable for any profession.